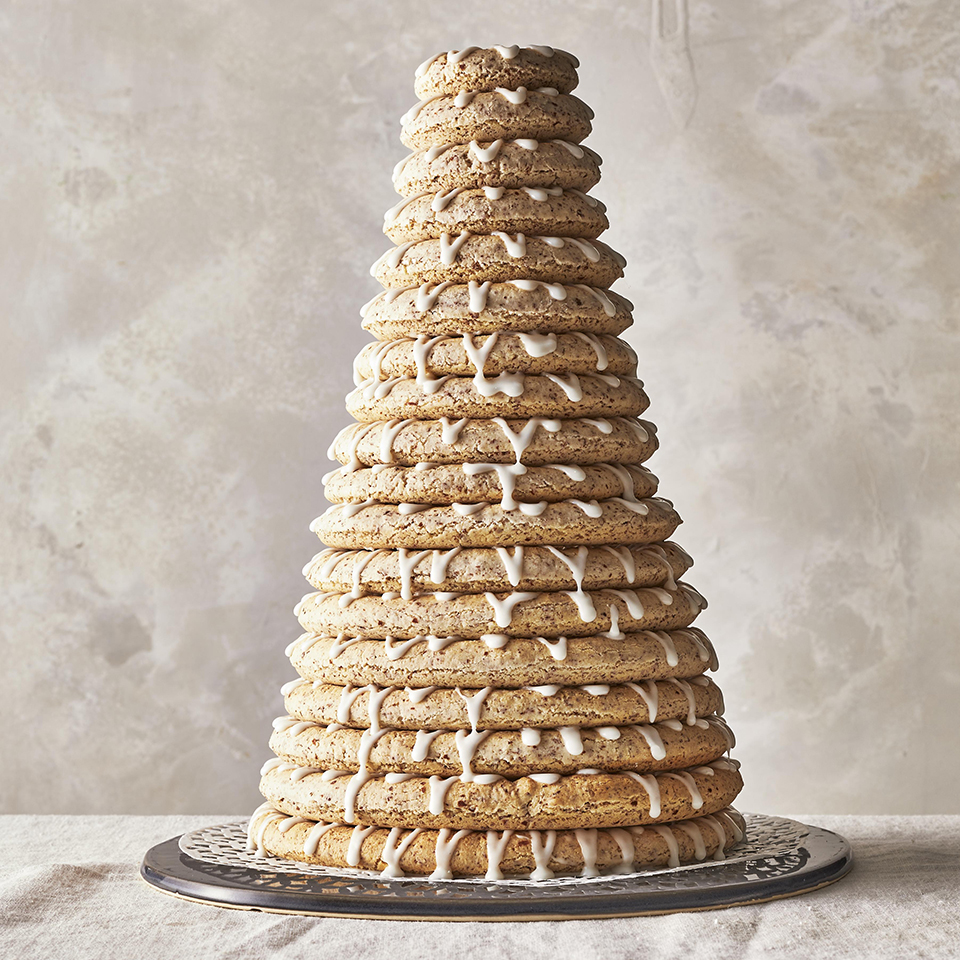 Ingredients
Dough
8 ounces (2 cups) sliced blanched almonds
3 cups confectioners' sugar
1/2 teaspoon coarse salt
2 large egg whites
Unsalted butter, softened, for molds
Royal Icing
1 pound confectioners' sugar
3 large egg whites or 5 tablespoons meringue powder mixed with 1/2 cup water
Paste or gel food coloring (optional)
Directions
Instructions Checklist
Step 1Dough: Place almonds in a food processor and process to form fine crumbs, about 2 minutes. Add sugar and salt and process until well combined and powder-like, about 1 minute. Add egg whites and process until a dough forms (it will have the texture of cookie dough). Wrap tightly in plastic wrap and refrigerate overnight.
Step 2Preheat oven to 300°F with oven rack in the middle. Brush a set of 6 kransekake molds with butter. Divide dough in half. Working with one half of dough at a time, cut into small portions and roll into ropes that are slightly thicker than the diameter of a pencil (about 3/8-inch-to-1/2-inch thick). Fit ropes into rings of 3 molds, trimming to fit. Place molds on an unrimmed baking sheet and bake until puffed and lightly golden brown, about 30 minutes.
Step 3Transfer molds to a wire rack and let cool completely on baking sheet. Repeat shaping and baking process with remaining half of dough and remaining 3 molds. Carefully remove rings from molds.
(
Collapse
)